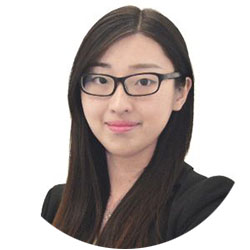 At Ingredior we're all about building meaningful connections with our clients so each month we put the spotlight on a member of our fabulous team to help you get to know us a little better. This month we're putting the spotlight on our incredible Project Lead and general go-to-person, the amazing all-rounder Nichol Lu!
---
Q. Tell us about your role at Ingredior
My title at Ingredior is Project Lead. I provide graphic design/marketing support and accounting support for clients. On the graphic design side, I work closely with the Head of Marketing and clients to create visions, conceive designs, manage and coordinate graphic design projects from concept through completion. On the accounting side, I assist in general accounting duties and I am starting my Master of Professional Accounting in Feb 2019 to be able to complete more complex accounting tasks.
---
Q. How long have you been in the role?
Since Ingredior's inception in July 2018 but I have been in similar roles at a related company since November 2016.
---
Q. What do you enjoy most about being part of the Ingredior team?
Working with the lovely team and getting new ideas from them in every week's team meeting, and watching Sim and Michael make fun of each other.
---
Q. What's the most valuable lesson you've learnt?
Never doubt your own skills. I think I tend to underestimate myself and I am always afraid that I will fail others' expectation… But the team here help me realise that my work is cool, and I should believe in myself.
---
Q. If you could have one wish in this life what would it be?
That every wish I make will come true.
---
Q. Are you a cat or a dog person? Why?
I like both but right now I wish I could have a dog. Because dogs are angels and I'm allergic to cat fur. *Sigh*
---
Q. Which Avenger would you be?
I'd like to be Pepper Potts though she's not an Avenger (yet?) so that I can spend valuable time with Tony Stark.
---
Q. Do you keep your tomato sauce in the fridge or cupboard?
Simple – Follow the instruction: not open → cupboard, once open → fridge.
---
Q. Would you rather always be able to see 5 minutes into the future or always be able to see 100 years into the future?
I would rather be able to see 5 minutes into the future, that way I won't miss a bus/plane and can catch a falling glass, and everyone will be like "wow, you have super quick reflexes."
---