There are significant differences between Business Development and marketing in the business world that are not always recognised.
Marketing gets them to your door whereas Business Development gets them through your door!
When marketing and business development are interlinked as part of your business strategy, it provides an effective and efficient pathway to create more viable leads. This leads to higher conversion rates as the activities are presented to market with intent, giving the consumer a consistent approach, closing out the customer journey loop. It is good to note, customer journeys can be cyclic, especially if you have more than one product or opportunity to offer.
Each area of business requires a sub-strategy to the overall business strategy where these areas are addressed as one.
You may be familiar with the terms:
Marketing strategy

Sales strategy

Business Development strategy
The strategies are based on the following focus:
Sales strategy is selling the offer
Marketing strategy is market placement of the offer
Business Development strategy is developing opportunities for the offer
The evolution of Business Development and its integration with Marketing & Sales might look like this…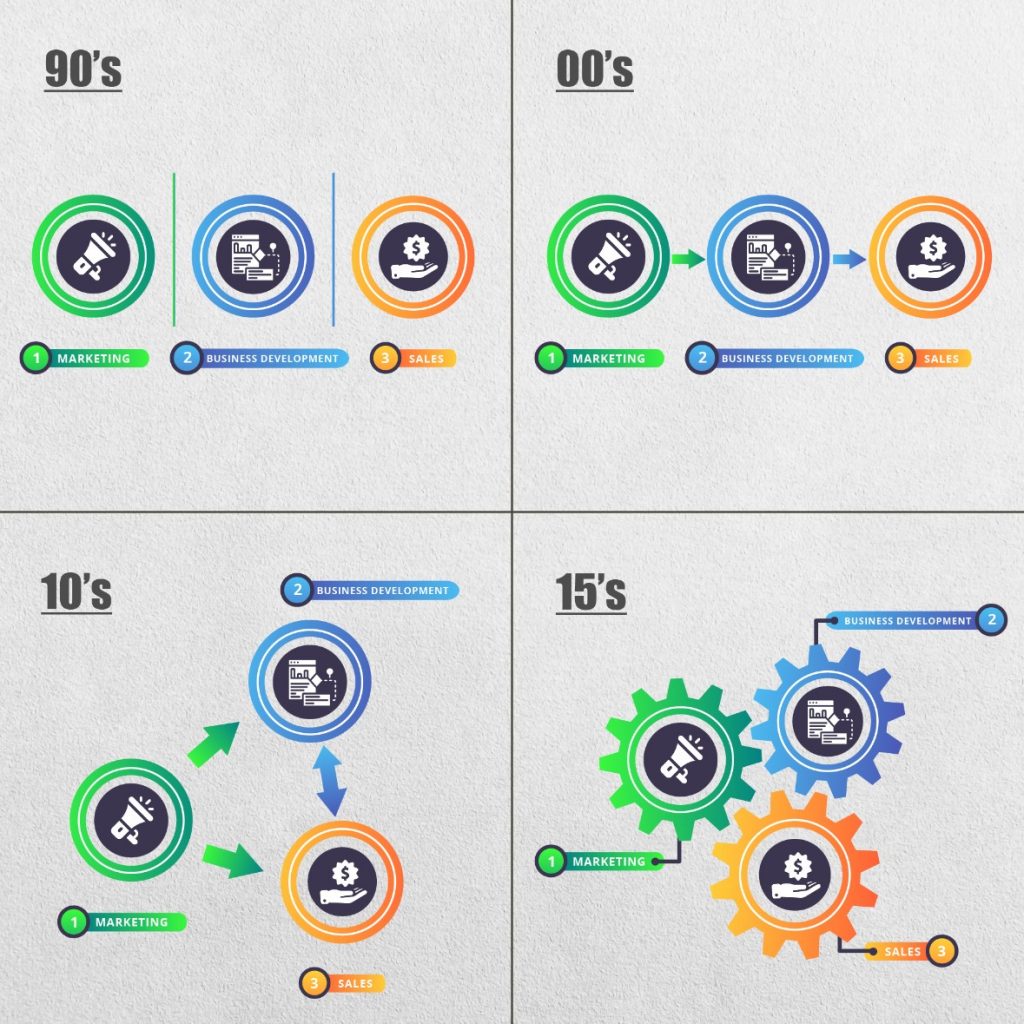 As the consumer craves an omni-engagement experience to interact with organisations, the business structure and strategy must evolve to reflect the ever-changing needs of the cultural pillars of society.
We are seeing this struggle with clients who do not have the ability to invest enough into paid consumer marketing to cut through the market in an effective way. This means smarter thinking…
What if there is a way to link Business Development (affiliates), Sales (lead generation) with Marketing (brand engagement) to utilise connections by infiltrating pods within the industry you are seeking?
Think of your Marketing as the lure, Business Development as the fishing rod and Sales as your esky.
Business Development is closest to customers and their individual needs to offer the most ACCURATE product or service in a way that will benefit their lives (in some way), while marketing is positioned to create better messaging and information that will resonate with the market, prospects, and current customers.
Without a cohesive strategy to interlink these areas of business together, organisations will continue to struggle in market as the consumer expects the entire experience to be as neatly fine-tuned as they portray in their messaging throughout all points of contact.
Thoughts:
When 'fishing', make sure you always have the lure, the rod and the esky.

Always approach Marketing with Business Development & Sales in mind
Always approach Business Development with Marketing & Sales in mind
Always approach Sales with Marketing & Business Development in mind

Using this approach helps companies create market awareness, secure meetings with prospects, generate and win proposals.
Marketers and Business Developers should execute their complementary strategy at the same time, promoting the same services at the same time – just like mini- campaigns.
Each area should consistently inform the other to reach the best results, ultimately resulting in a much higher return-on-time-investment.
Test this theory:
Create a mini campaign where you have the following planned
Select a product or service to promote for the next 2 months (this becomes your 'content theme')MARKETING:
Create marketing comms for digital platforms pushing this particular product/service
Ensure all content matches the theme for the time period of the mini campaign
Create digital or print collateral/information/content for Business Development and Sales teamsBUSINESS DEVELOPMENT:
Identify, from the CRM, who is already engaged in the current (or similar) products and services. What is the likelihood of engagement in this mini-campaign and identify the likelihood of leveraging their audience, by mapping their networks.
Assess activity within in the same/similar timeframe to align with other business operations or events in the local area to attend, promote, sponsor, or speak at.SALES:
Go through the CRM and see who would be interested in the product/service and identify their supply chain or affiliates to grow the lead generation/target list.
Get into groups and communities on digital platforms and engage with the audience, providing valuable feedback, comments, likes, etc.
If you'd like to learn more download our Worksheet to find out your Business Development Style and how it might help you determine how to engage with your colleagues, clients and audience!