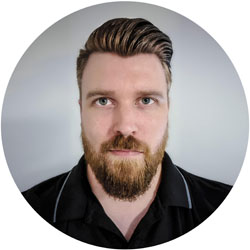 Q. Tell us about your role at Ingredior
I am the all-round IT guy for Ingredior. I handle everything from websites and email blasts to software and hardware solutions and everything in between. I also handle some visual design and multimedia work when needed and work closely with the rest of the team to ensure we are meeting and exceeding technical requirements. My mission is to keep both clients and Ingredior on the the leading edge of innovation and utilise technology to ensure maximum effectiveness, efficiency and reliability.
---
Q. How long have you been in the role?
I have been working with Ingredior since it was founded in 2018.
---
Q. What do you enjoy most about being part of the Ingredior team?
I really admire the vision that drives our team upward and I especially enjoy helping to achieve the lofty goals we set out to conquer for clients and Ingredior.
---
Q. What's the most valuable lesson you've learnt?
Nothing ventured, nothing gained. And you often learn the most when you fail trying. Just pick yourself up, dust yourself off and keep moving forward.
---
Q. What show are you binging right now?
Game of Thrones… Isn't everyone?!
---
Q. If you had to listen to one song for the rest of your life what would it be?
Oh man that sounds awful! Can I just choose white noise? I'm sure I would lose it otherwise!
---
Q. Have you ever met anyone famous?
A few but my favourites in recent memory were Adam Savage and Jamie Hyneman from Mythbusters. I helped them bust some myths on stage!
---
Q. What Hogwarts house would you be in?
WOULD I be in? No I AM in Gryffindor. The official website told me so.
---
Q. Do you believe pineapple belongs on pizza?
I always believe the best ______ is the ______ you love and that goes for pizza too. Don't let the snobby purists tell you otherwise. Besides it usually has fruit smoothie on the base anyway right? (Tomato Paste)
---
Q. Would you rather be constantly tired no matter how much you sleep or constantly hungry no matter what you eat?
Wait… being constantly tired isn't normal?
---