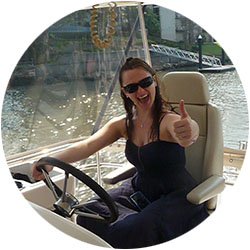 ---
Q. Tell us about your role at Ingredior and experience in the industry
My official title is Director and Head of Marketing, however, I like to refer to myself as Chief Learner and Assistant to the team.
My career has been forged through the fires of corporate enterprise, not for profit, media, government, theatre & festivals. Always responsible for creating, building and executing on-mass human engagement activity, which has thrown a plethora of challenges and problem-solving situations my way that could fill an Encyclopedia Britannica series.
---
Q. How long have you been in the role?
We officially started Ingredior in July 2018, so this role has been effective since then.
---
Q. What do you enjoy most about being part of the Ingredior team?
The team!
We have such a great group of people to work alongside each and every day. From such varied backgrounds, I'm learning everyday.
The diversity of clients is also exciting. You can accelerate your own learning of the world around you just by exposing yourself to different environments, people & activity.
---
Q. What's the most valuable lesson you've learnt?
A lesson I've learned over time is:
When things are good, evolution stalls.
When things are tough, evolution becomes a necessity.
The human race cannot survive otherwise.
This means when you are going through tough times, it triggers the most resilient and innovative part of your body, mind and essence to change the status quo.
Pain is a potent driver to excellence.
---
Q. What Hogwarts house or Game of Thrones house would you be in? Or if you've been living in a cupboard under the stairs and don't know either of these – Which Avenger would you be?
For Hogwarts it would have to be Gryffindor, they look like the most fun.
For Game of Thrones it would have to be Stark, due to their moral code.
For Avengers, it would be Captain Marvel, she is kicka**.
For X-men it would be Phoenix, because the Phoenix is my spirit animal.
---
Q. If you were granted one wish in this life, what would it be?
To bring self-awareness to each human on this planet. Awareness of oneself brings with it by default awareness of others, with this insight humanity would operate at a much higher frequency and care for each other on a deeper humane level.
---
Q. Do you keep your tomato sauce in the fridge or cupboard?
In QLD it has to be the fridge, same with potatoes and bread… they all must live in the fridge or die a mouldy horrific death, within a day.
---
Q. Would you rather have unlimited sushi for life or unlimited tacos for life?
Hands down sushi for life. Nothing better than freshly made sushi and sashimi **drooling on keyboard**
---