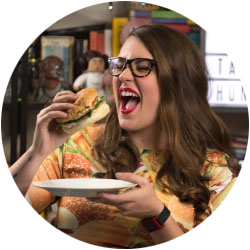 ---
Q. Tell us about your role at Ingredior and experience in the industry
I began working as a designer in 2014. I have created work for various industries including real estate and retail. My time at Ingredior sees me assisting with the creation of Marketing materials for our audience, from documentation, to newsletters to social media imagery.
---
Q. How long have you been in the role?
I started with Ingredior in 2020.
---
Q. What do you enjoy most about being part of the Ingredior team?
We have an incredibly collaborative team, we work together across various projects and always have an open and honest communication with each other. It makes for a fantastic workplace within which I feel valued and appreciated.
---
Q. What's the most valuable lesson you've learnt?
Not to take yourself too seriously, we are all human and it's in our nature to try, fail, try again. Respect yourself and your boundaries but always try to be a good person.
---
Q. What show are you binging right now?
The Umbrella Academy – It's one of my all-time favourite graphic novels and the show adaptation is quite good!
---
Q. Do you believe pineapple belongs on pizza?
100% anyone who disagrees is wrong.
---
Q. What's the best holiday you've ever been on/place you've ever visited?
Everything about travelling to Japan felt exciting. It's an incredible fusion of new, futuristic and older traditions. The people, the customs, the food the landscapes, its truly a magical place.
---
Q. What is your favourite family tradition?
My family meets every Sunday for Dinner. It has been a staple for as long as I can remember and I'm truly thankful and feel privileged to come from a close knit family.
---
Q. Would you rather be unable to use search engines or unable to use social media?
I would rather be unable to use social media. Search engines give you access to the entire internet's worth of information, but social media is limited to the extent of what is put on it by its users, be that good or bad.
---