The biggest secret of building the most successful partnerships… something almost everyone misses when seeking a strategic partner.
Knowing… Your… Value!
This does not mean knowing your service/product, knowing your audience or knowing your goals and objectives. This means knowing your Unique Partnership Value Proposition.
Businesses are still in the mind-frame of thinking they need to 'do it themselves' – build a solution on their own. This is driven by the need to be considered 'at the forefront', 'innovators', 'trend setters' in the market and as a result would have an edge over competitors, or go viral for their 'discovery/method'. It is possible to still claim these titles when partnering with an organisation where there is alignment and common objectives.
Step 1. Your Unique Partnership Value Proposition
A 'Unique Partnership Value Proposition' comes down to a pitch. Answering the question… "Why should anyone partner with you, what do you bring to the table?"
Learning how the game is played prior to playing it is important for having an advantage. In the global economy – in good times and bad – knowing how to position your organisation at the forefront of your sector/industry can make the difference between surviving and thriving.
The next important question to consider is… How do you find your 'Unique Partnership Value Proposition'?
There would have already been considerable thought placed into your organisation's purpose, where you want it to go, why you want it to go there… but now, steer your thoughts to how your organisation can support another business. Partnership is a two-way street and like any good partnership finding the various ways you bring out each other's strengths and support each other's weaknesses can only further your position with the sector/industry and reach a wider audience, together.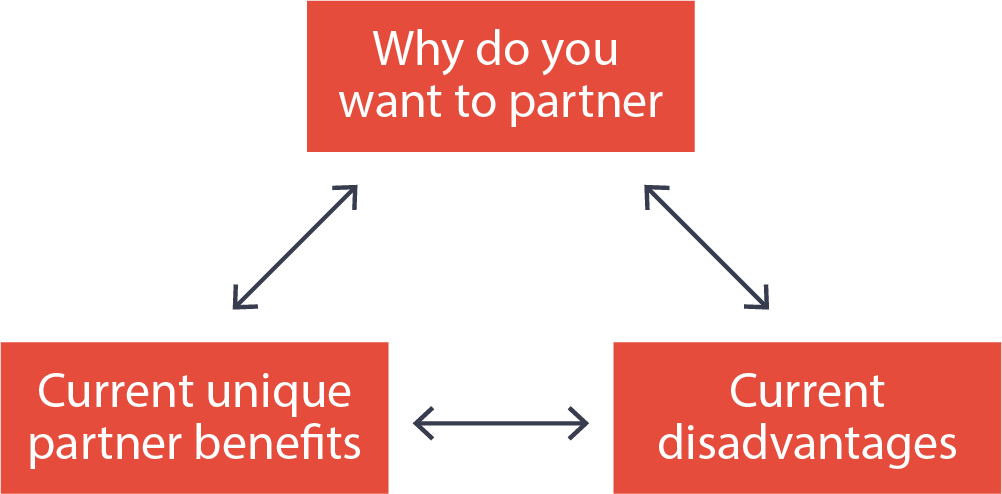 Working through why you want to (or should) partner, your current unique partner benefits and your current disadvantages give you valuable insight into how you can effectively present your organisation moving forward, but also to assist you in vetting potential partners to ensure you both bring valuable skills to the table.
To assist in working through these questions and thoughts, there are some activities you can do in this worksheet – Partnerships with Purpose
Step 2. Eliminate Friction
One of the biggest inhibitors impeding purchase and engagement is friction. For those who may not know this term, it is used to describe the factors that may stop a consumer from purchasing or engaging with you, ie. Has to click through too many pages to get to the purchase or not enough information provided.
This has been talked about for years, especially in marketing circles, however the challenge facing businesses in trying to minimise friction are coming from ALL angles…
rapid expansion and innovation in technology interaction with customers/potential customers.
an accelerated pace of consumer needs and desires, driven by individual considerations instead of a common collective need.
tightening global economic pressure – even if you are a local company – from products to shipping, to price to inclusion.
If you know your customer journey, not from your perspective but from theirs – you will find the natural evolution of the consumer's thought process. This will provide you with a blueprint on the 'decision making chain' to address the consumer's need and desires.
For example; From your consumer's perspective, could you map an entire thought process right from the beginning?

You can marry this against organisations who compliment or contribute to this process, what companies do you think you may be able to partner with for further integration into a wider supply chain. Build your own ecosystem!

Step 3. Create a Simple or Sophisticated Partner Ecosystem
Your ecosystem can be simple (like partnering with one organisation), or sophisticated (setting up a partnership supply chain).
A simple partner ecosystem might look like;
Example only…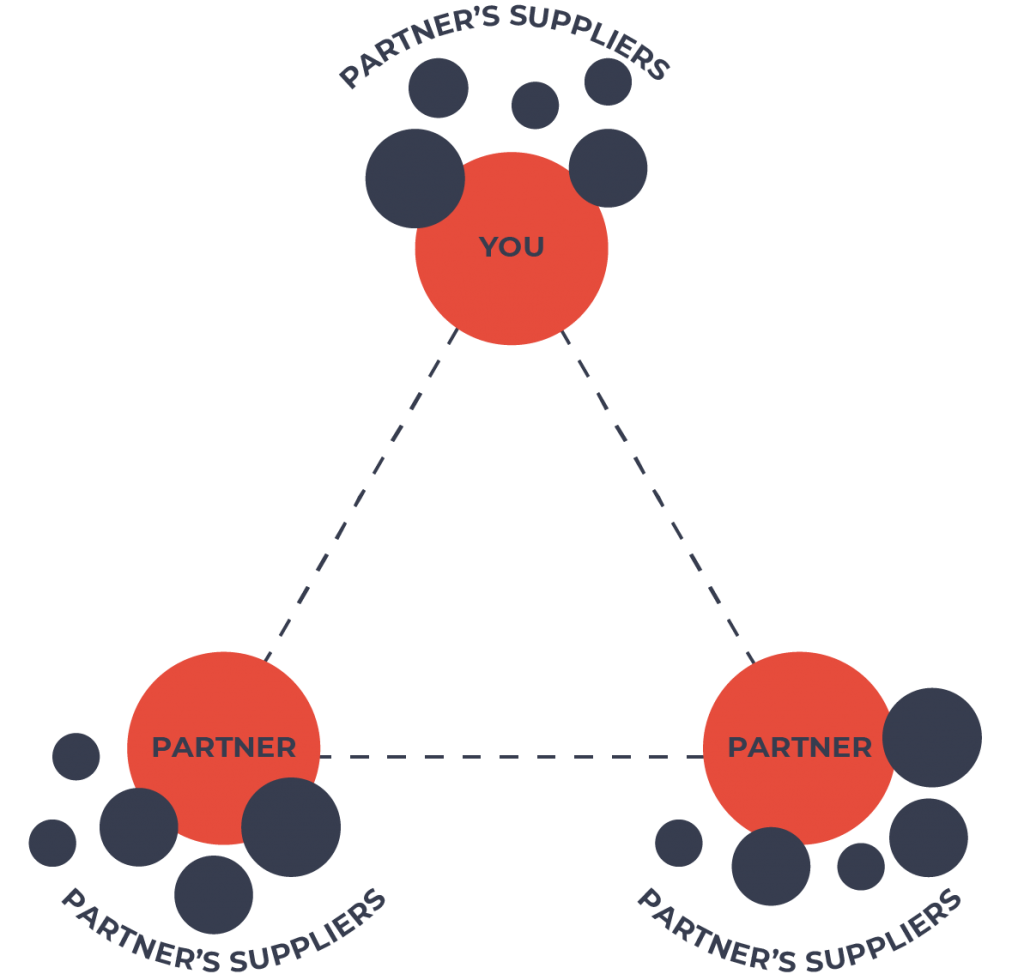 A sophisticated partner ecosystem might look like;
Example only…
Establishing the partnership ecosystem is not much different to formulating what your organisation's supply chain was prior to its set up. Your organisation is successful due to the planning put in place at that time. Now, the time being spent on planning this core component of the organisation will place you in a good position to get the right partners in place before someone else snaps them up.
Determining the type of ecosystem you would like to pursue will define the next steps you take towards a partnership model of conducting business. This will positively impact on your ability to deliver to customers, which could also alter other aspects of the business, like operations.
If you are a first timer, we'd suggest starting with a simple ecosystem… it will become apparent during this process whether you need to expand out into a more complex version of partnership model.
We recommend sitting down with a pencil and paper or mind-mapping it out digitally, pending your preferred creative thought process, to work through 'What is' and 'What could be' just by simply drawing some circles – this is an example of how we develop ecosystems for clients.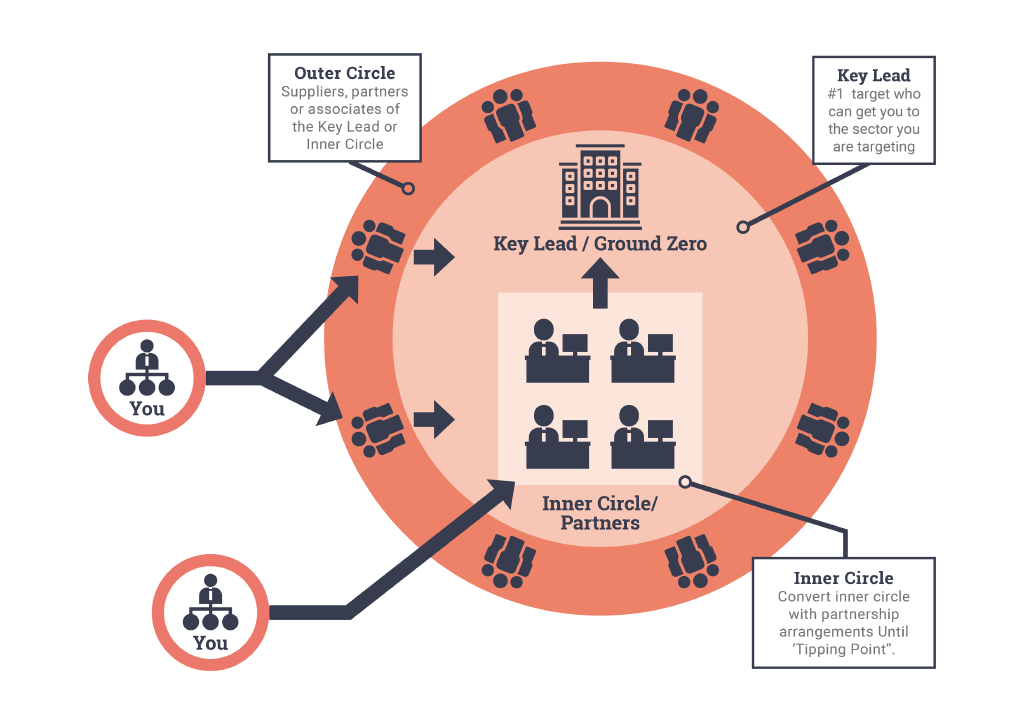 Your organisation can be considered 'Key Lead / Ground Zero' and you can continue to move to the outer circles to list what sectors/industries and subsequently organisations within those sectors might be able to form part of your ecosystem.
Once you have some organisations in mind, run them through the gauntlet to ensure they are partner fit! If you are wondering what Partner Fit is… our Partnership with Purpose worksheet will help! WORKSHEET – Partnerships with Purpose
VITAL INFORMATION FOR YOU
Once you have mapped out your 'Unique Partnership Value Proposition' it is vital you DO NOT go after them all at once. Pick 1-2 partners high on the priority list, bed them down, then move onto the next 1-2 and secure them, then the next 1-2… Be sure to take the time to set up the partnership properly, ensue you can service the agreement and build the relationship.
Where can you find more information?
You can also find more information on Partnerships
Thoughts:
The sooner Partnerships form part of your core pillar business model, the sooner you will be able to rapidly accelerate your organisation's success.

Do not rush into partnerships, take your time, vet your potentials properly. Approach this like a marriage, and where possible – trial 'living together' beforehand. Maybe through a joint promotion first to see if you are aligned.

No business can do it alone… at all, ever. All businesses need a community, a supply chain and a series of experts surrounding them to execute and perform. Don't fool yourself into thinking you can go it alone when there are so many possibilities and opportunities at your doorstep.
Test this theory:
Step 1: You have to go backwards to go forwards, don't jump this step otherwise you might find yourself in a partnership that does not fulfill the needs of your organisation in the mid-long term. Got through the activities in the Partnerships with Purpose worksheet. It is all there ready for you.
Step 2: Knowledge is Power, especially when it comes to your audience. Very honestly list out the way/s customers experience your service/product from initial exposure all the way through to purchase. If you want to level up, you can ask your customers directly through a survey and/or reach out to a critic and seek constructive feedback.
Step 3: An ecosystem can insulate you from future breaks in the global chain, assist you in becoming more recession resilient and support growth with minimal increase in overheads. Taking time to map this out will assist with guiding you in your decision making on who to focus on and in what timeframe.