When we think of the health of an organisation, we typically think about the health of its profits. Afterall, a healthy organisation is traditionally one that is in the black. But mental health of an organisation is often-overlooked when strategizing for success. Organisational mental health is at the core of a strong, thriving profit margin.
There are a number of factors that determine an organisation's mental health, including;
Employees (individually)
Departments and teams (collective)
Financial status and pipeline
Processes and procedures (operations)
Simply speaking, organisations that make efforts to ensure the mental health of their employees reap the benefits creatively, and financially. A mentally healthy workplace culture results in increased productivity, reduces absenteeism, and also garners better recruitment and retention results.
When people feel well, they perform well. Equally, when an organisation feels well, it performs better!
Introducing or fine-tuning existing organisational mental health strategies can be a delicate process, but a process that proves to be tremendously rewarding.
If you were to consider how these factors are reliant on each other, let us consider the following…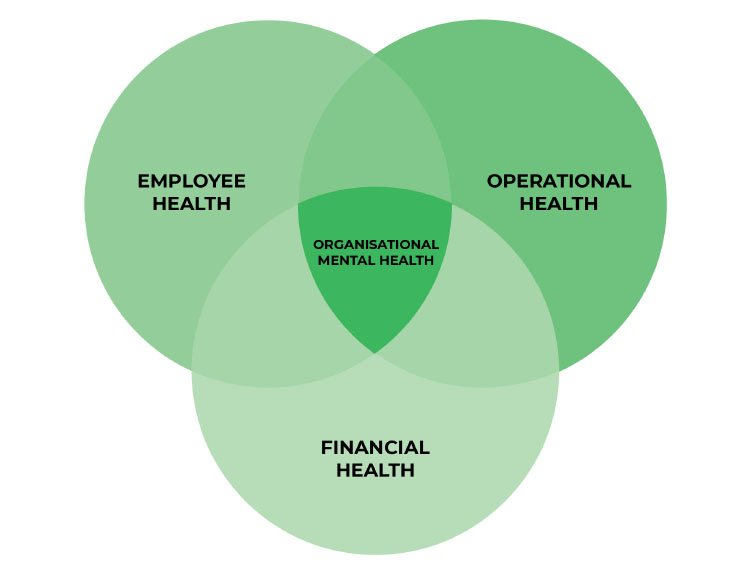 Any one of these items independently has the capacity to cripple the organisation. At any given time, a functioning organisation needs at least two of the three in a positive state, while working on the third.
If all three are in a positive state, the organisation can continue to flourish and succeed.
Traits of a Mentally Healthy Organisation – Employee
Every organisation is unique, with its own character and context. But a mentally healthy one will share these three key elements regardless of where or how the business operates:
A commitment to mental health by people at all levels of employment
Work and scheduling demands are realistic and balanced
Discussions about mental health are met with respect rather than discrimination
When this is the reality of an organisation, a workplace culture of respect and inclusivity is established. Staff who feel respected and included, are more willing to reciprocate this attitude in turn to their work and to the organisation. As a result, performance and collaborative efforts improve alongside productivity and output quality.
Consequently, organisations with excellent mental health landscapes attract and keep highly productive workers.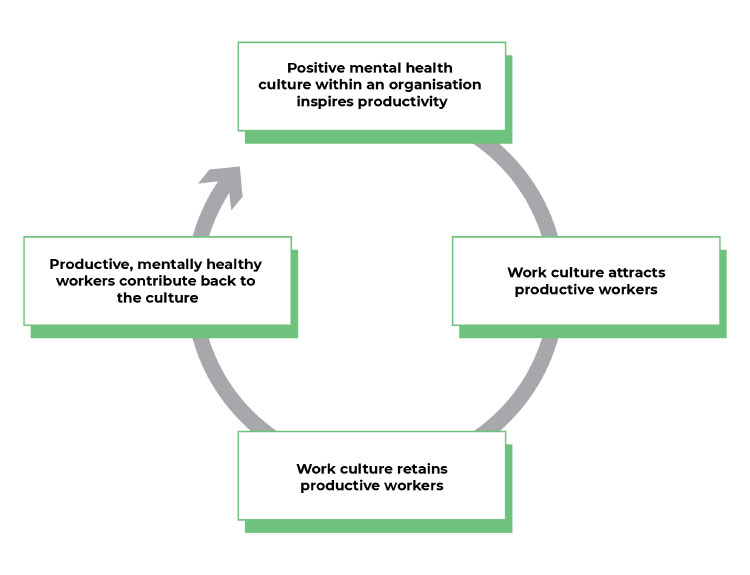 For added perspective, try thinking of an organisation where the opposite is the case. An organisation that has difficulty attracting ideal workers, or has a high turnover rate of staff, might suggest that there are issues with their organisational mental health strategy.
As an example, comparing and contrasting the 'mood of the office' with productivity or profits can be a good indicator of organisational mental health.
Traits of a Mentally Health Organisation – Operations
A mentally healthy organisation will have an effective system that works seamlessly to promote an efficient supply chain, from top to bottom which will assist in securing the market share no matter the economic situation. Whilst you may not be able to make decisions on how other businesses/suppliers manage their own operations which can affect you, there are ways to outline this and mange the risks associated to it.
When your operations function runs smoothly, employees aren't spending their time putting out fires or focusing on crisis control, they can instead focus on accelerating the business success and working towards finding efficiencies and seeking innovative solutions to businesses challenges.
Working out hiccups and bumps in operations will impact the overall mental health of the organisation.
Traits of a Mentally Health Organisation – Finance
A mentally healthy organisation is aware of financial trends internally (expenses) and externally (revenue) across the current and previous years. The knowledge of these financial trends is then optimised to benefit the overall health of the organisation.
Eyeing the trend over the period of a full economic cycle can assist you in figuring out what you can likely expect throughout a recovery period.
Consolidating financial issues to maximise revenue is a given. But mentally healthy organisations ensure most of the expenditure goes back into the company in a way that directly contributes to the future resilience and success of the organisation, like an investment. A strategic approach to expenditure factors in how organisations better themselves – whether that be updating technology, renovating office spaces, or allocating funds to mental health programs.
Simple Steps to Promoting Organisational Mental Health
Taking the steps to promote positive organisational mental health aren't difficult, but it is an ongoing commitment.
The World Economic Forum recommends the following steps organisations can take to create a healthy workplace:
Isn't mental health a private matter, not an organisational one?
Well, yes and no. Privacy and respect when it comes to the mental health of any individual is always important. However, where mental health and organisational policy intersect is always in the workplace. For many of us, most of our week, our year, and our lives will be spent at work. If the workplace is contributing negatively to the mental health of its workers, then ultimately it is in any organisation's best interest to cultivate positive mental health outcomes. An individual's performance can only be as good as their mental health allows, and despite best desires to separate the two, inevitably home challenges will seep into the workforce and vice versa.
Are organisational mental health strategies a drain on resources?
The size, location and structure of your organisation will determine what strategies are best. However, organisational mental health strategies need not stretch resources unnecessarily.
Here are some commonplace sustainable approaches:
Organising existing staff or volunteers into committees that focus on organisational mental health issues alongside their other duties
Ensuring management 'checks in' with workers and fosters open, respectful communication both formally, and informally
Providing resources and information about the availability of, and/or access to mental health support
Allocating time and a feasible budget to these strategies might prove challenging at first, but as we highlighted at the top of the article, organisations will ultimately find it very costly without solid mental health strategies in place.
Formulating Your Organisational Mental Health Strategy
Here we have broken down a typical strategy into three simple phases. Each phase will align with a major milestone in establishing an organisational mental health strategy. Remember to keep in mind that organisational mental health is an ongoing project – amend and maintain where crucial.
Phase 1: Establishment of Governance Structures

Appointing an organisational mental health committee (a person from each department or 'core-pillar' of the business) or an organisational mental health officer is a necessary step in formalising any organisation's commitment to mental health. While everyone has the responsibility to promote mental health, a team of enthusiastic individuals working on your organisation's mental health landscape is ideal.

If a mental health committee is impractical, a rotating roster of staff who are passionate about mental health might like to take the initiative. This governance structure will take responsibility for monitoring the organisation's mental health, as well as executing positive mental health practices.

These might include:

Encouraging staff participation
Fostering staff dialogue and communication e.g. focus groups or surveys
Reviewing feedback results
Developing, planning, and actioning activities/event to promote a culture of positive mental health

Phase 2: Research

After a governance structure has been established, they might like to do a mental health audit so as to identify existing policies, programs, supports and practices with regards to organisational mental health.

The data they collect can then be reviewed and analysed to discern things like:

Absenteeism rates
Bullying and harassment claims
Stress Claims
Accidents and injury rates
Maintenance and management
Staff turnover rates
Supply chain risks and challenges
Metrics on workplace productivity
Working environment risks
Performance reviews feedback
Stability and security of future work
Staff suggestions, focus group and survey results

Phase 3: Goals and Outcomes

From the research results, you can begin to formulate an action plan. Do this by:

Prioritising the issues identified
Consulting and communicating with your organisational mental health committee or organisational mental health officer
Insuring internal and external stakeholders are kept informed
The creation of SMART goals (specific, measurable, achievable, relevant and timely)
Monitoring results and feedback
Refining and adapting procedures where necessary
VITAL INFORMATION FOR YOU
Remember that each organisation is different, but organisational mental health is universally a worthy pursuit. As such, certain goals might work better than others, depending on the specific issues identified.
It might not be perfect straight from the beginning. Trust in your strategy, knowing that you can seek feedback from staff to better refine your approach.
Organisational mental health is everyone's responsibility, just like work health and safety (WHS). By sticking with your strategy, positive mental health will permeate your workplace culture and subsequently benefit the entire organisation.
Where Can You Find More Information?
You can also find more information on mental health through these resources.
Thoughts:
A commitment to positive mental health starts with management. Set the standard and lead by example.

Communicate ideas and feelings freely. If something's going great, share it. A happy and healthy workplace culture can be wonderfully contagious. If something needs fixing, let people know. You can't solve a problem if nobody knows about it.

Think of your organisation like a healthy body – It starts from the head down. A healthy mind leads to healthy profits