Getting comfortable with non-polished socials and using resources to build engagement with your audience.
Social media platforms continue to be an inescapable aspect of the marketing landscape. But, for something that has become a mainstay, it has continued to evolve, rarely remaining rigid or stale. An easy example of this being the Facebook we know today is worlds apart from the Facebook from a decade ago, from the features it offers, right down to how people use it & who uses it. Consumers are changing, demographics are shifting, and savvy organisations need to stay up-to-date with the ever evolving world of social media.
Our year in isolation has meant we have been reaching out for contact in other ways. As expected, online shopping and retail thrived throughout 2020, with it projected to continue well into 2021 and become a significant part of the consumer experience. Similarly, the interactive side of social media blossomed. People wanted to engage and connect with others on a deeper level while staying inside their homes, and their main method of choice was social media. They didn't want the polished social world everyone had created, they wanted the real, the raw and the open to really connect at a time when closeness was not possible.
This type of social engagement and interaction is here to stay!
People like to connect with people. When a person can connect a bond is formed. Your organisation's personality is a culmination of the people working in it, the service or product you provide and the experience when engaging with it.
Put the 'Social' in Social Media
In the hustle and bustle of business, it can be easy to forget that social media is most effective when there's a two-way conversation. When people are yearning for connection now more than ever, organisations need to seize the moment. Think of social media as a round table you have invited your guests (customers) to sit at for a chat – it's not a megaphone for simply shouting out some facts. Although, sometimes it can be that as well.
The social media table is where you can listen to feedback from your customers and also where your business can be heard. Though, the ratio should be more along the lines of listening 80%, talking 20%.
Giving an open and direct 'line' to you enables customers to respond to the organisation, and in turn, you can show you are listening. In short – it can take a lot of the guess work and mystery out of customer relations.
How are your social media interactions affecting your business?
We are in an era now where genuine, transparent, and meaningful interactions go a long way.
Common pit falls that negatively affect a business include:
Deleting unfavourable reviews or comments – the Internet always remembers, and savvy netizens love to screenshot.
Ignoring comments and reviews left by customers – sometimes a genuine apology can be greatly beneficial. No one is perfect, but a business owning up to its mistakes says volumes and builds trust.
Inactivity – You don't need to post every day, but months of silence will mean your customers will forget you, or worse, unfollow you.
So where do you go from here?
What should my organisation be doing on social media?
What kind of interactions should you be having on social media? That depends on the kind of organisation and organisational message.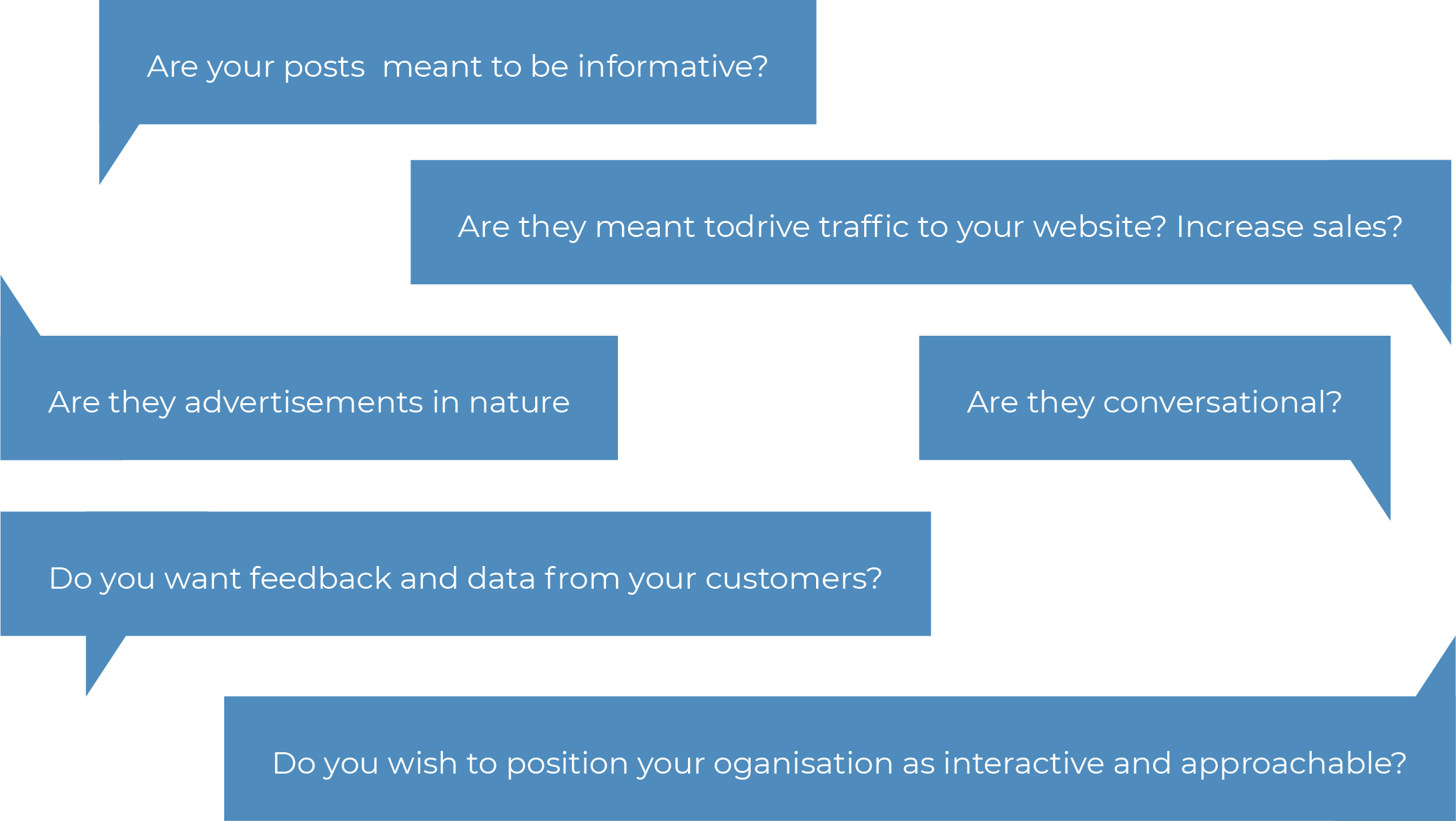 Where does your organisation fit into the future of work? Are you using the right social media platforms?
The platforms available to you are varied and all have their own benefits and drawbacks. To simplify things, it is best to take this three-pronged approach to start:
Determine where your customers are.
Are they mainly Facebook users who rarely watch YouTube? Do they respond mainly to visual stimulus and less to written messages? Trying to connect with your customers over Twitter when they are spending most of their online time on Instagram won't benefit anyone.
Determine what message you want to get across.
Some messages work best as short, punchy snippets of information, like slogans or dot points. Others require visuals. Some might need room for explanation and demonstration.
Determine your tone.
Simply put, find unity and cohesion in what you post across social media. A brief tweet compared to a photo on Instagram compared to a few paragraphs on LinkedIn aren't going to all look the same, but they should clearly be from the same organisation.
Remember, you don't have to do it all straight away.
Make a list of the top 5 platforms your audience hangs out in, then…
Work out what features they use on these platforms to notice and interact with an organisation like yours. Is it newsfeed, live, stories, groups, etc. Narrow your focus on this initially.
Engage the customers you already have and encourage them to interact with you – their followers and friends will see these interactions and will start to notice your brand.
Tackle 1-2 platforms at a time – don't try to take them all on, it can be a massive drain on resources if not planned out properly.
Stay aware of the new platforms coming out and have a mini 'should we jump on this platform' decision matrix ready to go so you can easily assess whether you should get on top of it straight away or if it can wait until the platform is more established (or when you have more time/resources).
You can also cross pollinate and repurpose content – don't post the same thing everywhere, alter it to fit the personality of the platform you are using.
For example:
What's social media looking like in 2021 and beyond?
At this stage, social media is a valued means of connection to an outside world that has largely been unreachable during the Covid-19 era. Health and safety precautions during a pandemic have seen major boosts in online activity, and online sales. People are seeking more connections online in place of face-to-face.
Consumers value brand interactions and feel more attached to brands that have a strong and active social media presence.
Social media will only continue to evolve and become more integrated into everyday life.
A slew of new platforms are entering the public sphere. Ones to keep an eye on are:
Getting a head start on new and emerging platforms can do wonders for your organisation. You will be able to cut through the noise is a less crowded environment, and you'll position yourself as a forerunner and early adopter.
Of course, as mentioned earlier, deciding on a platform to 'take on' should revolve around who your audience is.
Vital Information for You
Social media is a playground for organisations and their customers to mix, chat, play and come to better understandings of each other. A focus on two-way communications will optimize the benefits of your interactions on any social media platform. Remember, social media isn't just a billboard to look at and drive past. It has revolutionised customer relations. So, connect with your customers, hear what they are saying… and then, say something back.
Here's to following you soon!
Where Can I Find More Information?
There is more information to explore on social media and planning;
Thoughts:
Feedback from your audience is valuable, even if it is negative. Calmly and publicly diffusing a situation or making an apology reflects positively on any organisation.

Interacting with your audience means using the social media platforms your audience gravitate towards. It is easier to meet them there, rather than try and drive them to a different platform.

Social media users are becoming better at distinguishing between real interactions and faked sincerity. Be genuine in your interactions.
Test this theory:
Step 1: Think about your main customer. Develop a fuller picture of who that person is by listing things like: their age, gender, how old they are, where they live, how often they go online, how much time they spend online, what they use the Internet for.
Step 2: Identify what your main customer looks for from your organisation. Do they require information about upcoming events, or products? Do they want to know more about how other customers engage with your product or service? Will they require additional help or information? Identify three things you can offer your customers through social media posts.
Step 3: Identify if your customers feel like they are part of a community based around your organisation. Brainstorm some ideas to form a sense of community online.
Step 4: Figure out the most effective way to engage wit them. Is your organisation's service and products visual, or best in written form or audio form – which is the best way to engage your audience.