How does payroll influence employee happiness?
Whether you are in the finance team or not, your understanding of the organisation's impact on employees can make the difference between a happy employee and an unhappy employee.
There are many factors that impact an employee's happiness and commitment to the organisation, however, when it comes to financial stability – it is both professional and personal for the employee.
Professional in the sense that the employee has adhered to their end of the employee agreement, they have performed their role in accordance with their role description. Personal in the sense that when an employee sees disruption in their compensation for performing their role it impacts their personal environment – expenses, obligations, family, etc.
When finance processes are disrupted or errors are made, this can place a considerable amount of stress on an employee. The complete responsibility to ensure a smooth payroll and finance process is not just on the employer though, it is a two-way street, employees need to ensure they continue to communicate with finance people about changes or information that may impact on payments. For example; reimbursements, number of hours – in particular with flexible working.
This also means the internal communication with employees on a subject matter that may seem simple and automated is vital to the day-to-day operations of the organisation.
Additionally, increasing communication can support your cash flow position to accommodate 'pop-up' expenses.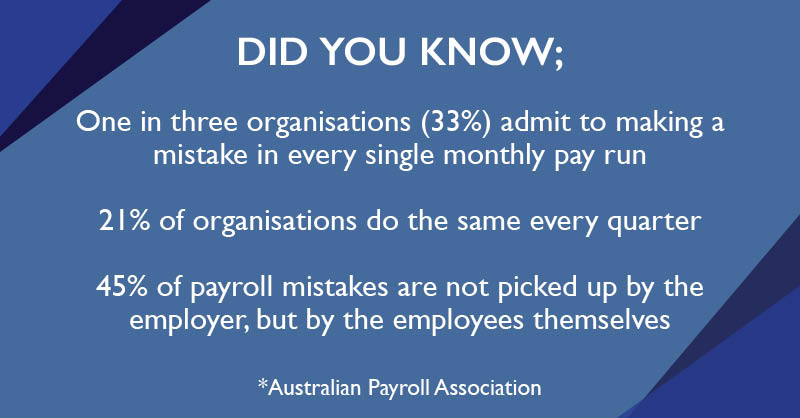 With cash flow and capital listed as 2 of the biggest challenges facing organisations of all sizes, payroll is a huge factor in this. How can a business take their finance and payroll to the next level making it easier to support and communicate with employees?
Collecting the right information at the beginning is the toughest step (and even that doesn't have to be hard). Once this is done, the rest will naturally fall into place.
What is the outcome for employees and the organisation?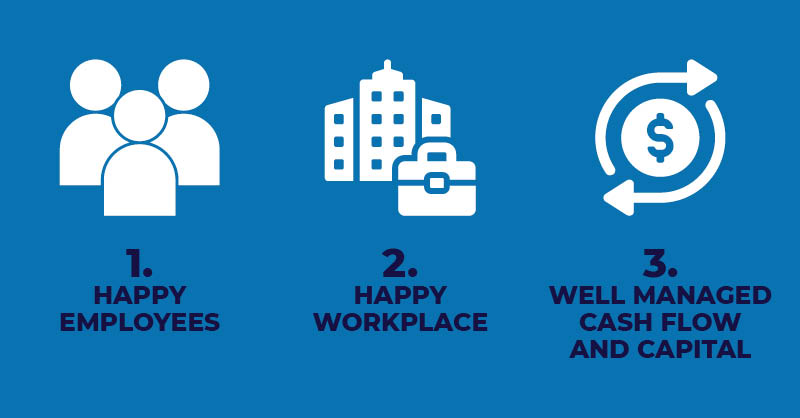 These three things are not mutually exclusive. While there are many factors contributing to a successful business, most (if not all) successful organisations have these three things in synchronicity and balance.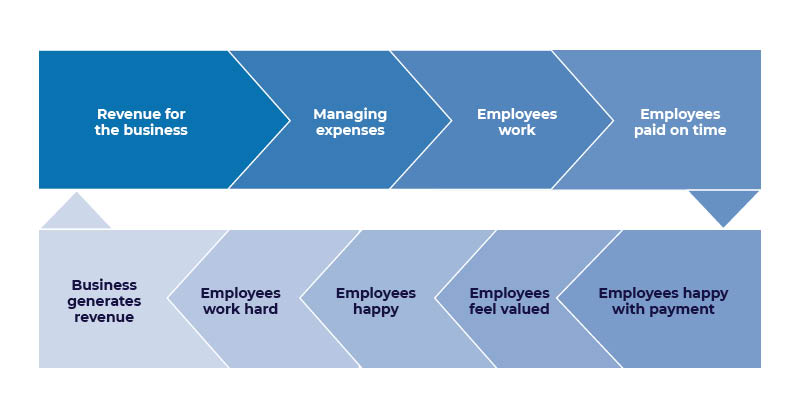 You cannot control how happy an employee is, but you can have an influence on the degree of happiness by ensuring security and consistency within their lives.
What you can control within your organisation is;
Ensure there is cash flow and working capital
Make sure employees are paid on time
Review employee's details to reflect correct information on file to minimise delays
Streamline processes to minimise disruption in payments
Keep lines of communication open to ensure employees feel safe to come to you with any personal challenges impacting their financial security and employment.
Starting at the beginning
If the objective is for everyone within the organisation to have what they require to facilitate a smooth financial process, for both the organisation and the employee, we would naturally reverse engineer the process, take it back to basics and reconstruct engagement for all employees, old and new.
Things change over time – process, technology, employee details, circumstances, staff… we can never take for granted what we know is 100% accurate. This can cause issues when automating information as there is limited interaction with the platforms used, therefore like any automated set up, it will continue to run the 'program' of information whether correct, incorrect or changed.
You might already have this in the 'bank' *excuse the pun* but it is important to get the basics right so the process can be easier for everyone, from the start.
Here is a small checklist of some of the information you should have from all individuals within your organisation. These may seem simple, but the simple things can often go by the wayside or unnoticed.
Employment type – permanent, casual, part-time?
Is the individual an 'employee' or a 'contractor'?
Determine work rights with regards to their visa status
Will there be wage changes, entitlements, or penalty rates?\
What tax do you need to take from your employee's pay?
What are the superannuation requirements?
Are there any insurance requirements?
If you have not completed this for all staff, it would definitely be worthwhile going back to the start and reviewing this all over again… you never know, it might assist you in identifying some efficiencies in the business or at least highlight the changes over time so you can be reassured every person on payroll has a dedicated purpose towards bringing value to the organisation.
Once the above points are addressed, you will of course need their information. These days it is not recommended to leave it in hard copy within a filing cabinet somewhere, scan it and place it into the electronic files, store a copy in your accounting software for good measure. Until your organisation is ready for the blockchain, it is important to have a digital and hard copy of employee information, such as;
Name and address
Tax File Number (TFN)
https://www.ato.gov.au/uploadedFiles/Content/IND/Downloads/TFN_declaration_form_N3092.pdf
Bank account details they wish to be paid into (there maybe more than one for Salary Sacrifice situations)
Starting date for work (and their final date, as per your contract)
Superannuation details
Keep in mind some of these details can change – make it an annual task to send out an email to the team encouraging them to advise of any personal or general detail changes, March is always a good time in preparation for EOFY – it can sometimes be hard for employees to remember they need to update their employer when information changes across every part of their life (including work). For example, with employees or contractors who change names due to marriage.
A raft of processes, some manually and some automated, contribute towards your operational activities, keeping on top of these from a 'be informed, not an expert' perspective – whether you are the finance person or not – gives the ability for you to ensure you can support those within the organisation who manage these functions on behalf of the organisation.
PAYG payments make up the income tax of each financial year.
Organisations that have employees, contractors, and/or make payments to third parties who don't quote an ABN (Australian Business Number) must ensure they are registered for PAYG with the Australian Taxation Office (ATO) here: https://www.ato.gov.au/Business/Registration/Work-out-which-registrations-you-need/Taxation-registrations/Pay-as-you-go-withholding/
Most organisations would have completed this already as part of the company process when it was created, however, there are situations where a company starts with no employees initially adding them over time, like those who may have 'side hustle' businesses, therefore they would need to add this in over time.
Reconcile, reconcile, reconcile
It will come as no surprise that your figures need to match up. This is important for a number of reasons;
Helps with cash flow forecast
Reporting obligations to ASIC and ATO
Gives current financial position of the organisation
Provides historical data on the performance of the organisation
This is done by;
Reconciling the total wages you have paid Year to Date (YTD)
Reconciling unpaid PAYG
Reconciling unpaid superannuation payments
Reconciling payroll tax (monthly)
If you have a bookkeeper or an accountant (external) who does this for the organisation, don't assume this is being completed regularly. The legal liability sits with you to ensure anyone who is performing tasks and activities for your operations within the business is conducting them within the legislation, regulation and standard practices of the Commonwealth.
If you have a finance person internally who performs this role, they will likely need guidance on operational requirements, updates, changes that impact on the organisation to ensure they adhere to updated/ changing business practices based on any updates/ changes to legislation, regulation and standard practices of the Commonwealth.
Simplify with Single Touch Payroll (STP)
We hope by now your organisation has enacted the STP legislation as of 2019 as part of ASIC and ATO compliance, unless you are yet to have dedicated employees within your organisation. It was introduced as a simple way of reporting tax and superannuation information to the Government.
STP software automatically gives your employee's payroll info with each payment. That way, they have access to the information about their salaries, wages, PAYG, and superannuation.
This helps with automation of financial processes internally, especially when using platforms like Xero or MYOB. It also ensures that you continue to remain compliant with legislation, regulation and standard practices of the Commonwealth.
Whether you are in finance or not, it is important to have a broad understanding of how this works so you are armed with answers – not only for your team, but for your external bookkeeper/ accountant. What is the saying?… 'Forewarned is forearmed'.
Learn more about STP here: https://www.ato.gov.au/business/single-touch-payroll/
Everyone can be involved in finance
Seeking input from managers, team leaders and committees can assist the organisation to better understand the needs of the employees and operations of the organisation. For example, are their more streamline software or systems you can put in place, like using the feature of MYOB Teams for employees to log hours worked instead of a third-party software.
Save time and automate
There are plenty of programs out there that can help streamline the process, saving you time in the long run. Many will be able to combine payroll with timesheets and schedules.
Remember to have a review of your employee and business needs to check if your finance system is still delivering what the organisation requires. Finding the best finance/ payroll software will depend on the business size and the sector the organisation operates within.
JobKeeper and tax
There are a few payroll and pandemic considerations of accounting for JobKeeper with the upcoming end of financial year business tax.
Namely, as you would likely be aware by now, businesses enrolled for JobKeeper pay a minimum of $1,500 (before tax) per fortnight to eligible employees, withholding income tax as appropriate. Payments of more than $1,500 per fortnight will not alter superannuation obligations. Understand your obligations so you can inform employees when asked and to ensure your external or internal finance and payroll person/s are meeting employment obligations and appropriate reporting with ASIC and ATO.
Communicating with employees can make all the difference across every aspect of the organisation. The more an employee feels included, involved and informed, the less they need to 'worry' about in relation to the workplace. To further understand the importance of work-life being a core component of business and employee happiness, take a look at this worksheet. We discuss the theory of an individual's 'harmony triangle', where family, work and friends are attributed to the 3 points of a triangle, collectively the triangle is the representation of harmony and balance between the important environmental/ proximity relationships we have in our lives.
If the system/s is working the way it should and information is easy to capture for employees, as well as those having to manage payroll, employees will find themselves satisfied with the employer upholding their 'end-of-the-bargain' (ie. Payment for work conducted).
The aim is to make it easy for all parties by looking at how you can craft an annual communication plan. Providing support and guidance to employees via a communications plan also supports the financial operations of the organisation. This is a plan dedicated to sharing information with employees in an attempt to make organisational processes easier (for them), and as a result significantly minimises the finance team's process, resulting in little to no hiccups. A simple, automated, 'hard-to-break' process brings happiness to all parties.
For example, a content plan may include some of the following pieces of information;
If your team fill out timesheets, an email reminder each week (or month) to have these up to date will keep everyone on track and not delay accounts/payroll.
Reminder email annually to seek an update of the employee's personal details, in the instance they have changed address or phone number or married. **It may have slipped their mind to inform you, or they thought they did
An annual up to date information email to advise any changes to their superannuation – there are so many options available for an individual's superannuation, it could be the individual has not remembered to advise you.
Changes can occur in employees lives at any time, an email sent annually to ask for the latest information on their Emergency Contact person's details is important, especially in workplace related crisis situations, or in the event of a health emergency incident.
Send a steady flow of emails to advise any changes to internal process or policies, like reimbursements or credit card use, etc. Or any regulation changes the finance team now have to adopt.
Take a look back through the past challenges in payroll, what has been the steady factor causing the challenges – is it lack of understanding the process? Is it a lack of updates on personal information resulting in errors and double handling?
A good communications plan will also bring a little life to the finance team (whether internal or external), and open lines of communication so employees feel comfortable talking with the finance team about their personal circumstances that may impact on their payroll and working with the organisation.
Internal roles vs external roles
Organisations may decide to control their financial details internally with paid employment. Other organisations may find it easier to hire an external organisation (bookkeeper or accountant) to support their needs. It depends on the complexity of the organisation, what skills are required to service the organisation and the business cycle phase the organisation is in (eg. Start-up, growth, maturity)
If you have an external bookkeeper or accountant
Providing regular updates on employees are vital for smooth payment process
A dedicated internal person can assist with managing communications with the external provider (this maybe you as the first point of contact)
Alternatively, a robust information sharing process is required for employees to inform external provider of edits/ changes/ updates – this can be achieved through an internal communications plan.
Equally, if you have an internal person who performs this role
Identify ways for the finance person/team to integrate more effectively into the organisation to encourage information sharing
Create and distribute regular communications to the broader team to ensure employees can outline and identify challenges/ edits/ changes to their situation or when there is an error in payments.
Never assume an employee would remember to update you… there are so many factors that make up the tapestry of a person's life. They maybe under the impression they have already informed you, or they may not realise it is necessary.
It can be challenging to stay on top of what may seem such an automated, simple business function – Payroll. But many organisations either employ an external person to perform this role, or they may have an internal person with limited exposure and experience in the field, this is done to manage overhead expenses at vital times during the organisation's growth or maintenance periods. Both aspects require a high level of empathy as they come with their own degree of complexity.
If you are using an external provider, they have many other clients to manage. Therefore, the 'free-flow' of information is vital to ensure they have what is required to complete the task at the time of processing.
If you are using an internal person who may not be as experienced as an external provider, there is a degree of potential errors or mistakes if the information is not checked properly or the correct information is not provided.
Additionally, with remote and flexible working, it is even more important to open the lines of communication between finance and employees. It is true, the saying 'out of sight, out of mind' is great until there is an error in their payment and employees are upset/ frustrated/ stressed. This can start to breed resentment or disillusionment in employees resulting in lack of engagement and commitment to perform their role to the best of their ability.
Whilst dealing with business management situations and operational activity, it is important to remember the human aspect of the organisation. Showing empathy for situations faced by employees (despite organisational issues or challenges) will make all the difference between a happy productive employee and a disengaged unproductive employee.
VITAL INFORMATION FOR YOU
Keep your records updated. Seems simple enough, but most organisations are not proactive on this!
Making payroll an easy process keeps employees happy and productive, which can positively affect the bottom line.
Make sure your payroll payment summary YTD report is kept up to date with every pay cycle when it is made, it can help with cash flow forecasts and capital funds management.
Regular communication with employees is important to build trust and encourage interaction with the accounts team so they feel comfortable to advise of challenging situations within their lives.
No matter the size of the organisation, payslips for employees with their wages, tax and super information should be included.
Where can you find more information?
You can also find more information on this topic to help get the 'house' and systems in order.
Thoughts:
Even as a leader, manager or business owner… Keep on top of all financial obligations like; business tax, employee tax, superannuation payments. If you allocate $$ to this each week, the bill is not so large come BAS or EOFY time.

Have an annual review of the software used to capture information on employees, like personal information, superannuation, time recording and management, various business bank accounts and associated credit cards – see if there is a software that might be able to link them all, or may have all the features needed to streamline and minimise employee pay disruption, and assist in management of cash flow.

Create an annual communication plan to extract updates and details from employees needed to ensure a smooth payroll process, if you can include efficiencies in reimbursements and other items too it will enhance the employee experience and lead to a happier employee and a more successful business.
Test this theory:
Step 1: Make a list of the software programs the organisation uses to capture employee information like – personal details, banking details, hours worked, activities conducted, payroll, personal development, etc. Technology is rapidly changing, and companies are trying to be an easy 'one-stop-shop' for business.


Is there a platform you currently use, or you have researched, that can combine a number of these functions into one?

Step 2: Identify the last time you sought an update from employees regarding their information/ detail changes. If this is not in the last 12 months, put together an email in preparation for EOFY to ensure you have the best information available for the team (including Emergency Contact person as circumstances may change over time on this front)
Step 3: Outline an annual communication plan to employees, it doesn't need to be complex or complicated, a simple plan with the content you need to touch on. For example;


March (annually) 'Have your superannuation details changed?' email.




In July (annually) 'Have your personal details changed?'.




In September 'Has your Emergency Contact person changed?'.




**Remember, each email should focus on ONE THING, asking employees to update too many details at once will result in some details being updated and some not.**